Meet Susan McCallin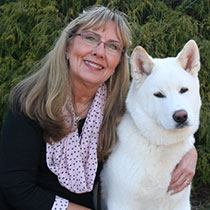 Hats off to Susan McCallin!  Susan is the longest standing member of the A.J.  Blosenski, Inc office team!  She has worked for A.J. Blosenski, Inc. for over 21 years and her past roles have included the residential department, the collections department, and the roll-off department.  Susan is currently the Roll-off Department Manager.  Susan's charisma is a great asset to our team and her leadership and professionalism have greatly contributed to the growth of our company.  A.J. Blosenski, Inc. is thankful to have her as a member of our staff.  Read below to learn more about Susan!
What are three things we may not know about you?
I have taken in many stray and rescue animals over the years. I am very passionate about animals and I do everything I can to ensure they have a safe place to call home.
I was a school bus driver prior to working for A.J. Blosenski, Inc. I maintained an excellent driving record for the 5 years that I had my CDL license.
My husband and I enjoy making crafts and we have participated in juried craft shows for many years. We enjoy woodworking, wood burning, and painting.
If you could speak to your 13 year old self, what would you say?
Enjoy every day, life moves quickly.
What is one thing you could not live without?
My best friend, my husband, Matt.
Where is your favorite place to be, and why?
My favorite location is our campground in Maryland.  I enjoy boating, campfires, the beach, and riding around on my trusty golf cart with our two dogs.
What are you most proud of?
I am most proud of raising my (3) beautiful children and watching them succeed with their endeavors.
What is your biggest aspiration?
To open an Akita dog rescue that would help to protect the breed and save the lives of the unwanted.
What is most rewarding about your job, what makes it worthwhile?
The relationships I have cultivated and grown to cherish.  Striving to provide the best customer service and support is the most rewarding portion of my job.